E-mail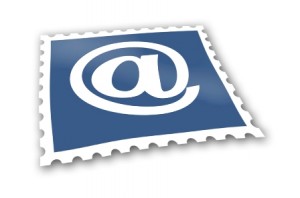 Here you can read how to set up your mailclient.
Change password / admin e-mail accounts
To administer your accounts, eg. change passwords, add/remove accounts. Log on to https://mail.dalnix.se/. If you have more than one domain you can administer all your email domains using one single logon. To change password as a regular user, logon with your email and password.
Autoreply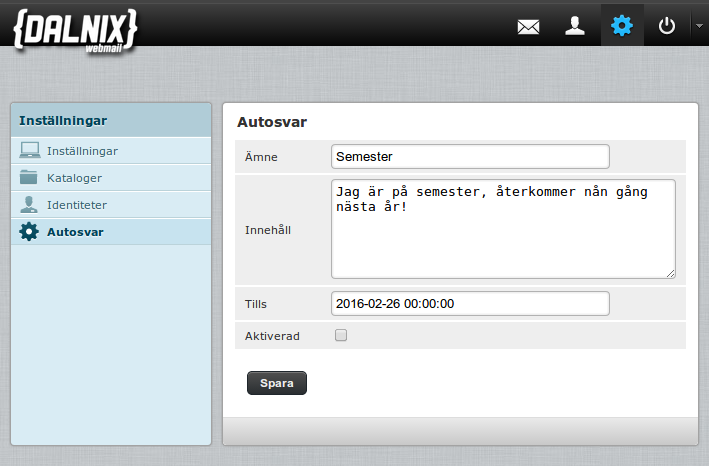 To set up an autoreply, use the same address https://mail.dalnix.se/ or alternatively you can make the changes from our webmail. You find the autoreply setting under settings and then Autoreply.
Webmail
Probably the most easy way to check your mail. Point your browser to https://webmail.dalnix.se and logon with your complete email adress and password.
Most common mailclients
Below are some guides how to set up the most common email clients (the guides are in Swedish, but, a picture says more than a single pixel…).
Any mailclient
A mailclient is the application on your computer, phone which you use to send and recieve mail. For example Thunderbird, OSX Mail, Outlook or anything else. No matter what client you use, you should use the following settings:
Incoming server (POP3 or IMAP4):
Hostname: mail.dalnix.se
Port (IMAP4): 143 / 993
Port (POP): 110 / 995
Username: <name@domain.com>
Password: <your password>
Outgoing server (SMTP)
Hostname: mail.dalnix.se
Port (STARTTLS): 587
Port (SSL/TLS): 465
Username: <name@domain.com>
Password: <your password>
Both incoming and outgoing servers requires you to authenticate with your emailadress and password.
Spam
Any mail tagged as spam by our email system will automatically end up in the folder "Spam". Depending on the email client you use, it may not subscribe to this folder. If you're missing mail, it might be worth checking this folder if the letter was tagged by mistake. Please note that all messages in IMAP folders "Spam" or "Junk" that is older than 90 days are automatically deleted. So do not use these folders to store anything of importance!